Gather 'round, my fellow interior design enthusiasts! It's time to speak about spicing up your living areas with some seriously hot wall cladding. You know, those flashy panels that can turn boring walls into eye-catching works of art? Those, indeed!
Transform your living space into a cozy retreat with the warmth and texture of woodgrain composite cladding in your home. Woodgrain composite cladding combines the best of both worlds – the timeless appeal of wood and the durability of modern materials.
If you're ready to unleash a tidal wave of charm and charisma on your living space, buckle up because we're about to delve into the realm of wall cladding that'll make your home the talk of the town!
Brick It Up: Redefine Rustic Chic
Let's start with a style that's as British as a coffee on a gloomy afternoon – brick cladding! This option exudes timeless appeal, channeling the moods of centuries-old structures. It's like welcoming a piece of history into your home, with those aged, weathered bricks nodding to you as they line your walls.
Whether you like the exposed-brick industrial style or prefer a rural cottage vibe, brick cladding has you covered. If you have a soft heart for the good ol' British countryside, you can almost smell the earthy goodness from those bricks!
The Glass Glam: Modern Majesty
Do you want a taste of the modern? The use of glass wall cladding will amaze your senses! These glossy, reflecting panels are the cladding world's chameleons. They reflect light like it's out of style, making your home feel brighter and more open than on a summer day.
Consider having tea by the window, but this time your entire wall is the window! Speaking of bringing the outside in. Furthermore, if you have a penchant for capturing amazing metropolitan views, glass cladding is your passport to an urban paradise. It's similar to building your apartment in the middle of London!
Marvelous Marble: Elegance Embodied
Marble is the ultimate in luxury and beauty. If you're looking for a premium look, marble wall cladding is the way to go. It's like having a piece of Buckingham Palace in the comfort of your own home! Marble's smooth, veined patterns are like a visual symphony, playing a tune as calming as a Sunday afternoon stroll through Hyde Park.
Not to mention the grandeur factor: passing through those marbled halls will make you feel like royalty. So, if your home lacks refinement, consider allowing marble to do its magic!
Wooden Wonders: Cozy Comfort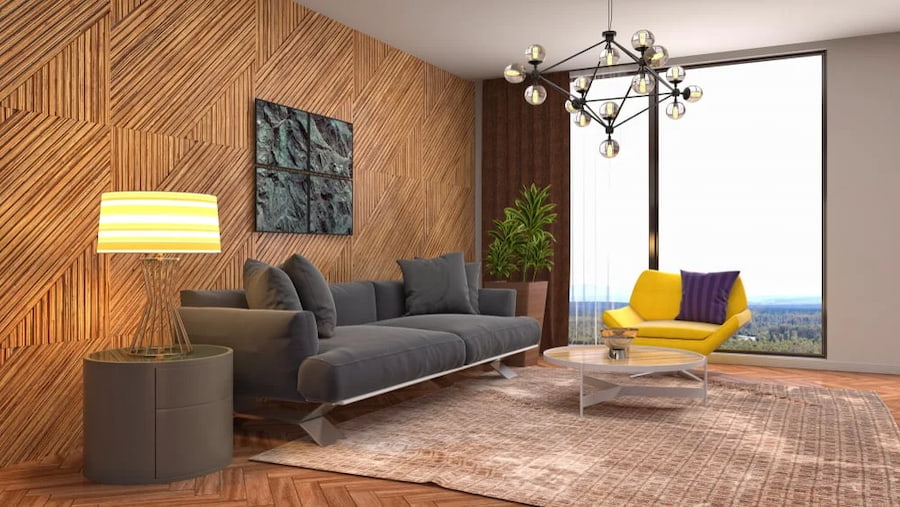 Let us now enter the warm embrace of nature with wooden wall cladding. This design is like a large, warm hug for your home. Wood's natural grains and textures create a pleasant atmosphere reminiscent of a fireside discussion in a country tavern.
And don't worry, whether you choose a rustic farmhouse vibe or a more contemporary elegant aesthetic, wooden cladding has the versatility to match your style. It's like taking some of the enthralling English forests into your living room, and it's as comfortable as a bug in a rug!
Tile Triumph: Playful Patterns
It's time to turn up the whimsical factor with some unique tile wall covering! This is your time to shine if you have a penchant for patterns. Tile cladding is similar to an artist's canvas, allowing you to create a masterpiece on your walls.
Your imagination is the only limit regarding geometric marvels and elaborate mosaics. It's like giving your house a dynamic personality as if ready to break into a jubilant ceilidh dance! Who needs plain walls when you can have a riot of colours and forms as vibrant as a London street festival?
Concrete Charm: Industrial Allure
Finally, let us explore the harsh embrace of concrete wall covering. This style is for you if you're drawn to a raw, industrial vibe. Concrete cladding is the hip kid on the block, shamelessly modern and urban. It's like having a trendy East End London in your living room! The rough textures and urban vibes give your room a sense of intrigue and edge. It's as though you're living in a converted warehouse loft, complete with stories and character.
Time to Clad Your Castle
So there you have it, friends – six dazzling styles of wall cladding to light up your home's style quotient! Whether you prefer the rustic, modern, elegant, cozy, lively, or industrial, there's a cladding style that's perfect for you. Whether your style is traditional or contemporary, woodgrain composite cladding promises to be the perfect canvas for your design dreams, bringing the essence of wood into the modern age.
So go ahead and pick your poison and give your walls a makeover fit for a royal garden party. Your home deserves to be a star, and these brilliant cladding types are ready to deliver. Cheers to a home as beautiful and lovely as London's streets!
Author Bio
I Am Lucy Jack, And I Have Been Working As Content Writer At Rananjay Exports For Past 2 Years. My Expertise Lies In Researching And Writing Both Technical And Fashion Content. I Have Written Multiple Articles On Gemstone Jewelry Like Moldavite Ring And Other Stones Over The Past Years And Would Love To Explore More On The Same In Future.