As winter approaches, the desire for comfort and warmth takes center stage in our fashion choices. Loungewear, once reserved for lazy weekends at home, has evolved into a stylish and versatile wardrobe staple. This winter, elevate your cozy game with the latest loungewear trends that not only keep you warm but also make a fashion statement. In this article, we'll explore the must-have loungewear styles for the upcoming winter season, ensuring you stay snug without compromising on style.
Luxurious Fabrics for Ultimate Comfort
The foundation of great loungewear lies in the fabric, and this winter is all about embracing luxurious textures. Opt for loungewear sets crafted from plush materials like velour, cashmere, or fleece. These fabrics not only provide superior insulation against the winter chill but also exude a sense of opulence. From oversized sweaters to joggers with a velvety touch, indulge in the pleasure of soft, sumptuous fabrics that cocoon you in comfort.
Neutral Tones and Earthy Hues
This winter, bid farewell to the vibrant hues of summer and embrace a more subdued color palette. Neutral tones and earthy hues like soft greys, muted blues, and warm browns dominate the loungewear scene. These colors not only create a calming visual appeal but also seamlessly integrate into the winter aesthetic. Mix and match different shades for a sophisticated and cohesive loungewear ensemble that effortlessly transitions from the couch to casual outings.
Oversized Silhouettes for Effortless Chic
Say goodbye to form-fitting silhouettes and welcome the charm of oversized loungewear. This winter, comfort meets style with loose-fitting sweaters, baggy joggers, and cocoon-like cardigans. The oversized trend not only allows for unrestricted movement but also exudes an effortless chic vibe. Pair an oversized knit sweater with slim-fit leggings or throw on a roomy cardigan over your favorite loungewear set for a look that is both on-trend and cozy.
Mixing and Matching Textures
Create visual interest in your loungewear ensemble by experimenting with different textures. Combine a chunky knit sweater with smooth satin joggers or pair a fleece hoodie with ribbed knit leggings. Mixing and matching textures add depth to your outfit, elevating it beyond the ordinary. This tactile approach to loungewear ensures you not only feel good but also look good, making a style statement even when embracing the casual side of fashion.
Accessorize for a Polished Look
Don't underestimate the power of accessories to elevate your loungewear game. This winter, add stylish elements like faux fur slippers, chunky knit beanies, or a statement scarf to your ensemble. These accessories not only keep you warm but also inject personality into your look. Opt for accessories in complementary colors to tie your loungewear outfit together, creating a polished and well-thought-out appearance.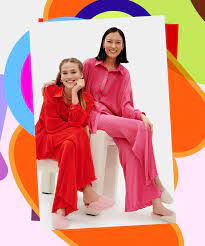 Monochrome Magic
For an effortlessly sophisticated look, embrace the monochrome trend. Choose a single color and style your entire loungewear ensemble around it. Monochrome outfits create a streamlined and cohesive appearance, giving off an air of understated elegance. Whether it's an all-black ensemble for a sleek look or head-to-toe ivory for a winter wonderland vibe, monochrome loungewear is a foolproof way to make a stylish statement with minimal effort.
Athleisure with a Winter Twist
The athleisure trend continues to reign supreme, and this winter, it gets a cold-weather makeover. Think thermal leggings, insulated hoodies, and puffer jackets paired with sneakers or stylish winter boots. The fusion of athletic and leisurewear not only provides optimum comfort but also ensures you're ready for both relaxation and impromptu outdoor activities. Stay cozy while maintaining an active lifestyle with this winterized athleisure trend.
Personalized Loungewear Sets
Make a statement with loungewear that reflects your personality. Look for sets featuring unique prints, embroidered details, or personalized monograms. Whether it's a set adorned with your initials or a quirky pattern that resonates with your style, personalized loungewear sets add a touch of individuality to your winter wardrobe. This trend allows you to express yourself while enjoying the comfort of customized loungewear.
Conclusion
This winter, transform your loungewear into a style statement with these cozy and fashionable trends. From luxurious fabrics to oversized silhouettes and personalized sets, there's a loungewear style for everyone. Embrace the chill in the air with confidence, knowing that you can stay warm and chic simultaneously. Elevate your winter wardrobe with these must-have loungewear styles and make comfort the epitome of fashion this season.